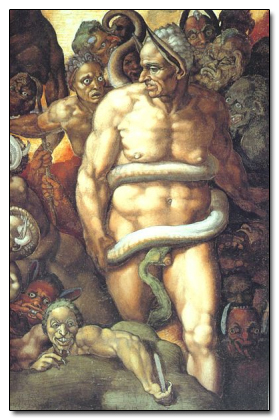 #2:  The Sisitine Chapel:
He [Michelangelo] literally smothered the roof of the Sistine Chapel with penises, something that didn't sit well with Biagio da Cesena, who was the Pope's Master of Ceremonies. Biagio was something of a religious purist (which is understandable, given his job and all) and he was offended by the fact that the Sistine Chapel had naked people frolicking all over the damn place, going so far as to say that the fresco was more suited to a brothel.
Michelangelo, who was stressed enough already, decided that Biagio da Cesena could go fuck himself to death and incorporated him into the Chapel's paintings.
As an epic "screw you," Michelangelo painted Biagio as Minos, the judge of the underworld. That would already be pretty bad, since Minos is a demon and Biagio da Cesena was a cardinal, but as you can see, Michelangelo also decided to paint a snake biting him in the dick. And in case the meaning wasn't sufficiently clear, he gave him the ears of a jackass.
This is the funniest thing I have seen in a long time. Enjoy!
http://www.cracked.com/article_19271_8-filthy-jokes-hidden-in-ancient-wo...